Well, for starters… everything.
So much went wrong between the time we paid for the trip, and take-off, it wasn't until we landed in Rome that Jane or I believe we would actually make it.
In the summer of 2008 when we planned the trip, we had no idea that by fall, our 22 year old family business would fail. 2007 had been a good year for us, with a 20% increase in sales and our first year in the black since 9/11. We had every reason to believe that we were on a roll. However, in 2008 almost nobody had a good year. Gas prices sucked the life out of any company that had anything to do with trucking. By September many of our customers had gone out of business. Then, the banks started to fail, and the one that were left behind didn't want to extend credit to companies or consumers.
In October, I had to lay off our staff of about 20 full time people, some who had worked for us since 1986. In November, we sub-contracted our remaining business to a competitor, and by December 1st, we closed the doors.
All the while, we wondered if we were really going to make the flight on December 8th, that we had paid for in July, a time that seemed so long ago.
Our daughter, Casey, had also not become more stable. She was periodically in and out of Psychiatric Hospitals due to her out of control Bipolar Disorder. Life had become one therapy or Doctor appointment after another. We never knew, day to day, if she would be okay or not.
There was a point in November, where Jane gave me an out, and just said we should cancel the trip. I looked at our trip cancellation insurance to see if losing your job, or having your daughter in the hospital was covered, and it was not. We had chosen the cheapest level of coverage, because that had always been enough. There had been more expensive coverage that let you cancel for almost any reason, but we thought that buying that was just a good reason to not take the trip in the first place. I told Jane that if we were going to cancel, we should probably do it at the very last minute as a last resort.
Jane arranged to have Casey stay with her sister, Sue. Sue is a long time member of the alcohol and drug recovery community, and runs a "Sober Living Environment" for people in drug and alcohol recovery. She is no stranger to out of control behavior, and we thought that if anybody in the family could handle Casey, it would probably be Sue.
As the date drew near, I continued to plan as if we were going to go, even though I really knew that chances were slim. I thought that when we closed the doors after Thanksgiving, that our corporate bankruptcy attorney would just file the papers. There were complications, and going into December, the papers were not filed. We were in limbo, not legally able to start up our new company until the old company was officially dead. For the first time in my life, I filed for unemployment insurance.
I didn't want to tell anyone outside our very close inner circle of family, that we planned a trip to Europe. How would it look? Our family business was filing bankruptcy, I was on unemployment, our daughter was suffering from uncontrolled bipolar disorder, the United States economy was on the in the worst shape since the Great Depression. Who would ever take an expensive vacation to Europe under those circumstances?
But, it kept going through my mind that we had paid for the trip back in July. We had the money set aside in our special vacation account. If we didn't go, we would never get the money back we had already spent.
I finally got up the courage to call Alitalila to confirm the flights we paid for months ago. Now, Alitalia, in December 2008, was probably in worse shape than my own failed company. When I called over, when I could get somebody to answer, it was usually an Italian speaking broken English. When they would pause, I could hear other Italians in the background laughing, and (I could swear) clinking glasses of wine. One of them that I got to stay on the line long enough explained to me that the non-stop flights from LAX to Rome's Leonardo Da Vinci Airport were cancelled.
I began to become upset. If they were cancelled, WHY had Alitalia never called or emailed me to tell me this?
Then I realized that in the course of the bankruptcy, I had started to get constant calls at home from bill collectors for the failed company. We decided several weeks back to change our home phone number, and I never thought to tell the airline. Not only that, but my email address I had given them was no longer working. They might well have tried to contact me, but in December I had totally different contact information than I did when I booked the trip in July. There wasn't much I could say about that.
The Alitalia representative explained to me that they had booked us on another flight that would stop at New York's JFK airport for a change of planes, but it would leave Los Angeles on December 10th instead of the 8th.
I explained that this would not work, and that this trip was for our 25th wedding anniversary, and that my 50th birthday was on December 10th. We had prepaid for accommodations in Rome, far in advance, and these arrangements could not be changed.
I was surprised when the representative said that she could change the flight from LAX back to December 8th, and that she would email me the changed E-Tickets.
I was so surprised, that I just thanked her and we said our goodbyes.
Then… I realized that she would email them to my OLD email address that didn't work anymore!
I spent the next several days calling Alitalila trying to get them to email the new tickets to my new email address. We never really did get the right information sent to us, but I had written down that our new flight would leave on December 8th at 6:30am. Alitalia partnered with Delta Airlines, and we would take a Delta flight from LAX to JFK, and change to Alitalia for the second leg non-stop into Fiumicino (Rome Leonardo Da Vinci Airport).
Making a 6:30am flight at LAX on a Monday is difficult from the San Fernando Valley. We decided to cash in some of our Hilton Honor's points for a free night at the Embassy Suites LAX North for Sunday night. Christian agreed to drive us out, and we invited him to stay the night in our room, and drive my Suburban back to the Valley on Monday morning. He would watch our house and menagerie, including a dog, two horses, a desert tortoise, a cockatiel and seven cats, until we returned, and even pick us up at LAX when we got back.
On Sunday, we packed up. Sue had already come and taken Casey away, along with baggies filled with her bipolar medications along with all kinds of instructions on when to give them, and what to do if things went wrong. That evening, Christian drove us to the hotel.
We checked in, and Jane and Christian went down to happy hour (where Embassy suites pours free alcoholic beverages for two hours for guests). I told them I would join them after I attempted to use the hotel business center computers to print our boarding passes for the next day.
Getting the passes was a real experience. Alitalia's website wouldn't do it because we going to start out on Delta (because the put us on Delta). I called Delta and asked what to do, and they gave me new Delta ticket numbers. I was able to go in and book Jane all the way through to Rome, including seat assignments, but when I tried to do it for my own reservation, it wouldn't work.
I joined Jane and Christian at happy hour, and told Jane that after all of this, she might be going alone, since I couldn't get my own boarding pass. I really thought that after everything we had gone through in order to go on this trip, that there was a very good chance that Jane would actually board the plane and do the trip without me if they wouldn't let me on the plane.
When the alarm went off at 4:00am the next morning, I still really didn't know if we were both really going to go on the trip or not. Still we got dressed, said goodbye to Christian, and got on the hotel shuttle to LAX.
When we arrived at the Delta terminal, there were hundreds of people in line. We were very confused about where to start. Finally, I went to a computer kiosk and tried to find our reservations to see if we could check in on the computer, then, stand in a much shorter line of people who were checking baggage.
It still wouldn't check me in, so we had to get in the really long line. When we got to the front, it was yet another computer self check-in terminal that still didn't work for me, so I flagged down a human who seemed really upset to have to help anybody. He had that look on his face that if I were just somewhat computer literate, I could do this without bothering him.
Then, he got a very concerned look on his face, and I figured that the jig was up, and Jane was going to end up going without me. But, then we got the whole thing to work.
I watched as he tagged our checked luggage, making sure it said that we were going to Fiumicino. He also tagged our carry on items, remarking that what we had was true carry on and not like these massive suitcases people try to sneak on these days.
Now, one of the major challenges I have failed to even mention at this point, was that in the days leading up to the trip, we were moving our personal items out of the failed company. This consisted of a lot of very heavy boxes that my almost fifty year old body had to load into my suburban, and take to various storage places. At some point I injured my back. Now, I've strained my back before, but this was the worst pain I had ever felt in that area. I visited my HMO and was given prescriptions for Vicodin, heavy-duty Motrin, and another pain medication called Methocarbamol.
If you read my account of our time in Interlaken Switzerland, entitled "Interlaken OTC", you know that I am not opposed to taking as much, or more medication than it takes to kill pain or a cough due to cold. On the day of our flight, I was popping all three of these medications as often as I physically could without causing myself to die of an overdose.
So, just getting in and out of the shuttle with the luggage for me was impossible. I had to get help from the driver, or Jane, who is only 4'11". Sometimes I'd step off a curb wrong and scream in pain, with my back just grabbing.
When we were in line for the security check, everybody was taking their shoes off in advance. I kept mine on. Finally a very annoyed sounding woman behind me said, "SIR! You have to TAKE YOUR SHOES OFF!". I looked at her and said, "Thank you. My back is out, and I'm just waiting a few more steps so I can lean up against the TABLE". I really was in serious pain, even with this trinity of drugs in my system.
We got through security, and it took me forever to get my shoes back on, along with my sweater and everything else with my back grabbing me with every breath. I couldn't even imagine what it was going to be like taking one flight in coach across the United States, then another across the Atlantic. I just thought that if we had already made it through all the other hurtles, I'd find some way to survive until we got to Italy.
Of course, our gate was the farthest one from security. We had left too early to take advantage of the free cooked-to-order breakfast at Embassy Suites, and every food vendor at LAX was not yet open. After sitting hungry for a while at our gate, I could smell some food from someplace. I also needed some liquid to take the next dose of my pain meds with. I told Jane that I'd go see where the smell was coming from.
It was McDonalds. I got into line with what looked like a hundred people. There was a hand written sign under the menu that said "NO ROUND EGGS". I stood there and tried to figure out what that could possibly mean. I imagined special chickens with red wigs sitting on blue plastic boxes as they pushed out rectangular eggs for these airport McMuffins. With enough Vicodin and Methocarbamol, you can really see things like this.
It turned out that the Egg McMuffin that Jane ordered just had those square scrambled eggs like you get on an Egg, Bacon and Cheese biscuit, which is what I ordered. I brought it all back with drinks and took my next dose.
The plane arrived, and it looked rather small for one of these trips. In the past, we had taken Air Tahiti Nui and Air France, both of which flew gigantic Airbus A360's. This aircraft looked like something you would fly from Burbank to Vegas. I was disappointed.
When we went on board, things didn't get better. The seats were very cramped compared to the other flights to Europe we had taken. Missing were the personal entertainment systems, that consisted of a screen in the rear headrest of the seat in front of you where you could watch any of a large number of movies, play games or watch live video from outside the aircraft.
Also missing were any free meals. You could buy the same terrible airline food they give for free on other flights for $8.00. They did offer free water, coffee or soft drinks, but this was really a let down after what we had experienced before at half the price in the past.
They did show a movie, but Delta made you pay for the headset. I brought along my noise canceling headphones, but the audio jack located in the arm rest had a short, and I could only hear out of one side. I finally put my blackberry in "airplane mode", and used it as an MP3 player to listen to music I had stored on it.
When we began to descend into New York, I became excited as I was able to see the Statue of Liberty, and make out the south end of Manhattan. We had last visited New York exactly one month prior to the terrorist attacks of 9/11, and I remembered looking at our vacation video and seeing the twin towers from the Staten Island Ferry behind Jane and Casey just weeks before they would crumble to the ground. Now I could see ground zero for my first time as we flew toward JFK Airport. I thought about the thousands people who were alive in those buildings the last time was there, who were not alive anymore.
When we landed in New York, we exited the plane and looked at the screen to see what gate our next flight, with Alitalia would leave from. We walked to the gate and saw that the flight was leaving on time, but then I looked at our tickets after we sat for a few minutes and noticed that although the time and destination was right, or flight number was different.
We went to an information counter and learned that our flight was leaving from a totally different terminal. We have never been to JFK airport before, so we had no idea where to go. The airport personnel were not very helpful, mostly acting like they had no idea where the terminal was, or how to get there.
Someone told us that we had to take the "sky train" from outside the terminal to the other terminal. We went outside, and suddenly, I realized that it had been a mistake to pack my warm coat in my checked luggage. Stepping into the frigid New York air was something like I had not experienced before. I've spent most of my life in California and Texas. It was so cold outside that my nose began to hurt, and the cold air made me cough, which made my back spasm, so I'd gasp in the freezing air, cough, spasm, and scream out this white frosty breath.
A skycap tried to help us by telling us to wait at the curb and a hotel shuttle would go by, and all we had to do is jump on one of those, and they would never know we weren't a hotel guest and we could ride for free to the sky train.
Then we stood there in the cold for what felt like forever, and a shuttle never came. So, we decided to go back inside and see if anybody could give us directions. Someone gave us what sounded like a way to get to the sky train, so we went back outside and walked along a sidewalk for a long ways, then across a street, and we started seeing sky train signs.
We went up an elevator, and then had to go down an escalator one floor, it all seemed pretty impossible. The minutes were ticking away, and I began to wonder if we were actually going to miss our connecting flight.
We finally found the right terminal and went to get in line to go through security. A very geeky looking girl in her early 20's looked at our boarding passes, and said in a very New York accent, "You godda go to Aaal-Eee-talya and git yer bow-er-din pea-sses changed".
She pointed around the corner. We walked there and found an Alitalia check in counter, which, was mercifully lacking in hundreds of people waiting in line. We went up and showed the attendant the boarding passes we were issued in Los Angeles from Delta. She took both of them, one of which that had our luggage claim checks stapled to the back, and gave us Alitalia boarding passes. We did not notice at the time that she did not transfer over our luggage claim tickets.
We went back to the security line, and I said to the geeky girl, "You know…. You are the only person today who has given us accurate instructions the first time. Thank you so much for helping us". This girl looked like I had just said the nicest thing she had ever heard. She broke into these huge smile showing a full rack of braces. I actually thought she was going to grab me by both ears and kiss me right on the mouth in front of my wife. Instead, she just said, "OH! THEANK YUE!". It was as if nobody had bothered to say anything nice to her in ages. She just became very cute in that moment, and she really is the one person from that very long day that I can still see in my mind's eye.
We had to do the whole security/shoe thing again, and my back wasn't getting any better after flying across the North American Continent in a cramped coach seat. We made it through and it took me forever to get dressed again. We finally got to our gate just minutes before boarding. It had been a three hour layover, and we had lost about two and a half hours of it being lost in the terminals at JFK.
I went to a food stand and bought some chips and water. I went back and found Jane and took another hand full of pain killers, and then it was time to get on the next plane.
I was hoping that this one would be something like a A360, but it was just like the smaller plane we had just gotten off of. No entertainment system, cramped seats. The one saving grace was that the flight was full mostly of Italians flying home. They also served two free meals, not great food, but it was something. They also kept bottles of red and white wine open in the rear of economy, so once in a while I could get up and go take a few sips, and stand up a bit to help straighten out my very painful back a bit.
After what seemed like forever, we landed in Rome. In terms of Rome vs Los Angeles time, it was almost exactly 24 hours after we had left. In reality it wasn't quite so bad, because inside of that is a nine hour time difference. But, it was still a long time since we had gotten up before daylight in L.A.
We went to claim our baggage. Mine showed up on the belt very quickly, then we stood there for what seemed like hours waiting for Jane's small rolling backpack to show up. It didn't. We ended up having to go and see the Alitalia baggage people, and file a missing bag claim, which is interesting when you are completely out of your head on pain killers and haven't slept for what your mind tells you is 24 hours. Luckily, I was carrying the same "man purse" that I've brought on all four trips and had all of our trip information filed in it. I was able to provide the address of the apartment, the phone numbers and everything they needed. Jane also reminded me that we had baggage delay and lost baggage insurance through Travelguard. I pulled our policy, and was amused to see that Travelguard is actually called "AIG-TravelGuard". AIG had recently been in the news for getting a gigantic bailout by the US Government, only to have their executives spend hundreds of thousands of dollars afterward to celebrate. I was hoping that when I called to make the claim that they were still in business.
We are pretty familiar with the Rome airport at this point, but we still managed to get lost at first. But eventually, we negotiated the various moving sidewalks and turns to the Rome Hilton. They were very gracious to allow us to check into our room many hours before official check-in. I thanked the desk clerk telling her how nice she was being to us, since we had been flying since yesterday morning. As Hilton Honor's gold card members, we not only had a free room, but an upgrade into their executive tower that included a lounge with free drinks and snacks. It finally felt like something good had finally come to us after so many negative things after booking this trip back in July.
We got to our room, which was very well appointed, and sat down for a moment to decide if we would take a nap, or try to find something to do. First, I called TravelGuard and let them know that we had a problem with the luggage. The guy who took our information was very helpful and reassuring. He told me that he would personally "hound" Alitalia, calling them frequently for updates until the luggage was found, and that we didn't have to do anything. I gave him my cell phone number. I had recently changed to Tmobile after our company went under and I had to give up my old Nextel phone. It worked in Rome the moment I switched it on, and all the guy had to do was call my normal US number and it would ring wherever I was in Italy.
Jane and I thought about taking a nap, but instead we decided to see if we could visit Ostia Antica, an ancient port town for Rome that we had read about, and had learned was very near the airport.
We went down to the lobby, and I stopped at the hotel Bancomat (ATM) to draw out some Euros. Then we went outside and saw two cabs waiting, and approached one of them to ask about a ride.
NEXT: Tired, and in pain, we suck it up and visit Ostia Antica!
But FIRST: A photo taken on our front porch before we left home: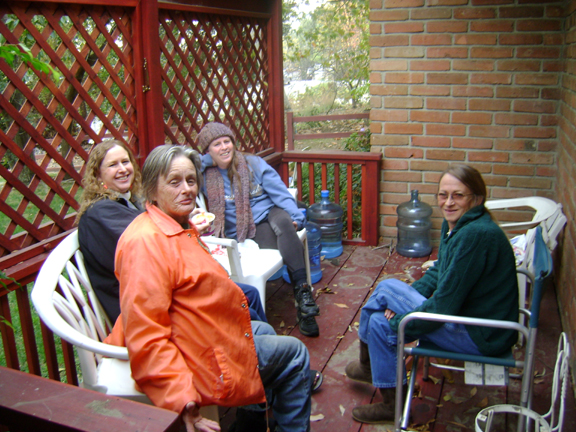 Jane with her Mom and Sisters. Left to right, Donna, Lona, Jane and Sue (who watched Casey for us while we celebrated our 25th Anniversary and my 50th Birthday in Rome).